In order to enable access to the Linux GUI, a VNC server is pre-installed on the virtual appliance. To start the VNC server, please follow these steps:
 Start a SSH connection to the appliance. For this, a tool such as PuTTY is needed (http://www.chiark.greenend.org.uk/~sgtatham/putty/download.html):
...
 Now you can access the appliance's Linux GUI using a VNC client, such as Tight VNC Client (http://www.tightvnc.com/download.php):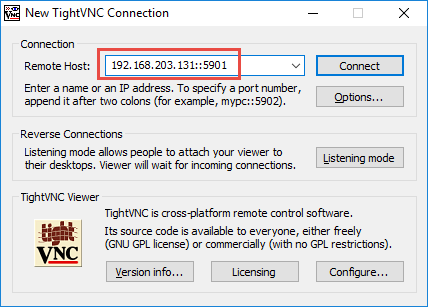 Image Removed
The default connection password is config. It can be changed by issuing the command vncpasswd in PuTTY. 
...
...
Include Page
| | |
| --- | --- |
| | OE:Remote Appliance Access (VNC) |
| | OE:Remote Appliance Access (VNC) |